Heart of Texas Bead Retreat
Summer Retreat
June 1-4, 2023
Hilton DFW Lakes     Grapevine, Texas
Workshops
Cynthia Rutledge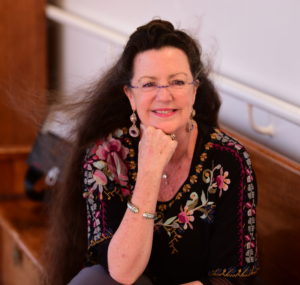 Cynthia is a contemporary artist and teacher focusing on beadwork as her medium. She specializes in peyote stitch and off-loom weaving techniques with an emphasis on developing sculptural unsupported shapes in beadwork.
Her work has been exhibited in national and international shows and has appeared in Nicolette Stessin's Beaded Amulet Purses, Carol Taylor's Creative Bead Jewelry, and Carol Wilcox Wells'Creative Bead Weaving: A Contemporary Guide to Classic Off-Loom Stitches.
"My attraction to 3-dimensional shapes has created a fascination for me throughout my life and has fueled my creative spirit. My choice of beadwork as a primary medium has followed that same fascination. As my beadwork has evolved, my work seems to always lean towards the building of shapes and forms that are functional and wearable.
The choice to use beads as my medium was primarily influenced by my love of color. Beads reflect and absorb light, hold shape and dimension, and in so doing, offer chameleon-like qualities. It is not always the end result that is the most important to me, however. The process of working with beads and thread is meditative and calming, which allows time for reflection. Engineering each piece is always a challenge that thrills me, as well as giving me the power to make the decisions that need to be made for each piece. The more I experience the wonderful qualities of beadwork, the more I realize my relationship with beads will always be one of learning, experiencing and sharing.
The decision to teach grew from my personal desire to share my love of beads and all the wonderful things that can be created with them. The commitment that I have to teaching stems from my desire to share the knowledge I have gained while developing my own skills in this medium. Ultimately, my mission is to help to keep this art form alive and well."    (photo of Cynthia by Mark Rutledge)
To view more of Cynthia's designs: Click HERE
All You Bead is Love
Description:
This design is a tribute to HRH Queen Elizabeth II (April 1926 – September 2022). She spent her whole life in the pursuit of service to her country. Her reign of 70 years and 214 days is the longest of any British monarch and the longest verified reign of any female sovereign in history.
HRH had a deep sense of religious and civic duty. She did not express her own political opinions in public, which was a rarity. She worked tirelessly to bring the world together, whether in joy or in sorrow. When there was free time, Queen Elizabeth loved to garden, was a stamp collector and a great lover of horse riding and racing. In her earlier years, the Queen and the Duke of Edinburgh loved Scottish country dancing. Her love and appreciation of music lead her to being a patron of many music-oriented charities. HRH has personally shown recognition to musicians through awards and placement on her Honor's List. The list is long but here are just a few. From Paul McCartney, Adele, Elton John, and Mick Jagger to Placido Domingo and Julie Andrews.
HRH Queen Elizabeth II loved wearing pearls, so I had to include that in the design. A basic bezel around a central CZ trillion begins an in-depth layering system of pearls, set CZs, netting and peyote stitch. The necklace was created in pearls using right-angle weave, ending in two CZ buttons and a connector for a lovely necklace fit for a Queen!
For more info on the kits: All You Bead Is Love
Workshop: Designed for The Heart of Texas Summer 2023 Bead Retreat
Skill level: Intermediate to Advanced
Techniques: Peyote Stitch, Netting, Right-Angle Weave (RAW), Setting CZ's. This sample 17 inches long.
Materials: Kit Mandatory
Kit: $180.00 each plus the cost of one 20mm trillion CZ, two 10mm round CZs and thirty 4mm CZs
Kit Colors: Click HERE
Students should bring: Lighting/Magnification, your usual beading supplies
---
Sherry Serafini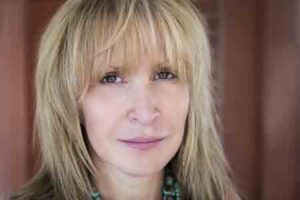 Sherry was raised in a military family, moving every few years. She credits that nomadic lifestyle with giving her an adventurous and uninhibited approach to her work. Always the artist, even in childhood Sherry found herself preferring more artistic activities than most. Sherry studied and earned a degree in Graphic Design at the Art Institute of Pittsburgh – to which she states to this day is where she encountered some of her greatest inspirations and mentors. After college, Sherry worked as an Ad Director for the local newspaper – it wasn't until the birth of her daughters which inspired her to pick up beads. Sherry has dabbled with nearly every medium available – none of which compare to the emotions she evokes from her beadwork.
Unusual objects and shapes become part of a new story as Sherry stitches beads and gemstones, one at a time to her creations. Most pieces are born spontaneously as the beads and Sherry's imagination dictate the design. She seldom works from sketches. Sherry finds this meditative form of art to be a rich counterpoint to a society full of instant gratification. Each piece designed by Sherry is entirely unique – no two pieces are the same. Even within the classroom, she encourages her students to work outside of the guidelines she provides, never fearing to take risk. Sherry believes that there is never enough beauty in the world and believes everyone should take time to create.
Sherry was voted one of the top 10 instructors in the United States by Bead & Button magazine. She lectures and teaches throughout the world. She has been published and has written articles for several well-known magazines. Her work has been featured on the covers of trade magazines and catalogs and is the co-author of the Art of Bead Embroidery with artist & friend Heidi Kummli and Sensational Bead Embroidery by Sherry Serafini. Sherry's beaded art is known internationally and has been worn by Grammy winner Melissa Etheridge, Steven Tyler of Aerosmith, Lenny Kravitz, pro golfer Michelle Wie and singer Fergie of the Black Eyed Peas.
To view more of Sherry's designs : Click HERE
Come Together

Description:
Bead embroider a "layered" pendant. Batik fabric, metal, laser cut wood and a cab of your choosing will be combined to create this pendant. My photos show my choice for the cab, what you choose will make your uniquely your own piece of art. Hangs from a leather cord and is enhanced with a single crystal drop.
Workshop: Designed for The Heart of Texas Summer 2023 Bead Retreat
Skill Level: All Levels
Techniques: Bead embroidery with cab, beads, two-hole beads, cabs, metal
Materials: Kit Mandatory 
Kit: $105 Detail Photos click HERE
Students should bring: Please bring E-6000 adhesive, variety of beading needles, Fireline 6 lb test (Smoke or Black); or Black One G (any similar thread is fine), sharp pointed scissors, Super Glue Gel for cord ends, white pencil/gel pen, ruler if desired. Lighting/Magnification, your usual beading supplies.
Kit Color Options: Choose Gold or Silver. YOU will make this piece your own by choosing the focal cab you want. Images OTHER than what I used will be available. Size of cab – 2″ x 1″
---
Melissa Grakowsky Shippee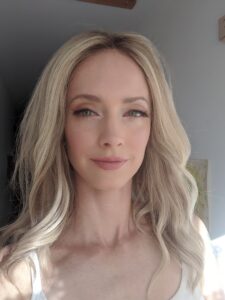 My life didn't always involve tiny pieces of colored glass with holes in them. Earlier in life my interests had a broader focus. I always had a fascination with the natural world, and equally with art. In college, when I was finally free to study what I liked, I majored in biology at first but went on to complete a bachelor's degree in physics, and another bachelor's degree in fine arts (with a painting concentration).
I got into bead weaving in my early twenties after my son was born and I desperately needed a creative hobby that would conform to the new space- and time- (some might say space-time) limitations that I was confronted with as I entered a new phase of my life. My old medium, painting, was simply not an option when caring for a baby in an apartment. And I had decided to quit my studies to care for my son, who needed just a little more help than the average baby in getting a good start to his life.
Thankfully a good college friend of mine introduced me to his aunt's bead store, Beads East, formerly located in Manchester, Connecticut, and the rest is history.
I now travel all over the United States and to select countries around the world to share my love of beading with workshops, I design projects to sell as kits and patterns here in my online shop and in my workshops, and I produce illustrations for other artists in the industry.
To view more of Melissa's designs: Click HERE
Sunshine Blue Skies
This Heart of Texas project can be made as a pendant, a brooch or hairclip (or even a hairband/hatband ornament). Filled with sunshine and blue skies, this ray of light inspired design is one of two offered for Summer 2023 Retreat attendees. Attendees may select to do one or both of the two designs!
Workshop :
Designed for The Heart of Texas Summer 2023 Bead Retreat
Skill Level: 
Intermediate
Techniques:  
Bead Embroidery
Materials: Kit Mandatory
Kit:
$50
Students should bring: 
Lighting/Magnification, quick drying jewelry glue, your usual beading supplies
Kit Color Options: No Pre-Orders/Color Selection will be required for Kits 
Sunrise, Moonrise Click
HERE
Inner Light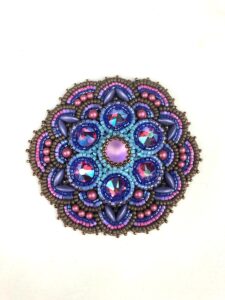 Description: 
This Heart of Texas project can be made as a pendant, a brooch or hairclip (or even a hairband/hatband ornament). Filled with light and color, this mandala inspired design is one of two offered for Summer 2023 Retreat attendees. Attendees may select to do one or both of the two designs!
Workshop : Designed for The Heart of Texas Summer 2023 Bead Retreat
Skill Level: Intermediate
Techniques:  Bead Embroidery
Materials: Kit Mandatory
Kit: $32
Students should bring: Lighting/Magnification, quick drying jewelry glue, your usual beading supplies
Kit Color Options: Pink/Blue (shown), Green/Gold, Orange/Purple Click HERE
---
Julia Pretl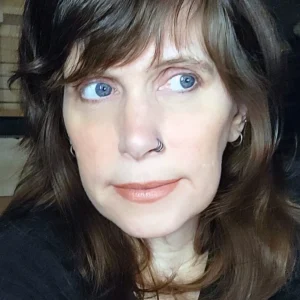 I live in Baltimore where I work as a bead designer, teacher, illustrator (mostly for other bead designers/authors), and graphic designer. Creative since early childhood, I studied graphic design and illustration at The Maryland Institute College of Art in the late 1980s in my hometown of Baltimore City.  I have been beading since the late 80s. In 2002 I self-published my first book "little boxes" where I introduced four shapes — triangle, square, pentagon, and hexagon — in peyote stitch as a basis for my boxes. This book was re-published in 2006 by Creative Publishing international under the title "Little Bead Boxes" and is still in print today. I also authored books on bead knitting and beaded broad collars.
To view more of Julia's designs : Click HERE
Peace Box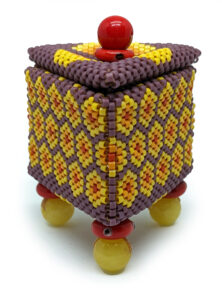 Description:
In this class, we will be constructing a small, triangular box with a fitted lid, feet, and a finial. The stitch used is peyote stitch. The size of the box, without feet and finials, is 1.5" wide by 1.25" tall.
Workshop:  The Heart of Texas Summer 2023 Bead Retreat
Skill Level: All Levels
Techniques: Peyote
Materials: Materials List Click HERE
Kit: Kit Not Available
Students should bring: Thread – I like size B/46 twisted nylon (purchased from thethreadexchange.com) but have also used Fireline or similar in size 6 or 8. I don't have a lot of experience with the newer threads but anything that allows tight tension and multiple passes through a 11/0 Delica should be fine.
Needles – I use size 11 Tulip brand
Also – Good lighting (essential!), scissors, a pencil, your favorite bead board, and a magnet board or post-it notes to follow the graphs and word maps are also helpful.
---
Cliff Swain-Salomon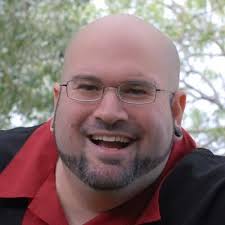 Cliff Swain-Salomon is an off-the-loom seed bead weaver known for creating non-traditional jewelry shapes and pushing the boundaries of color exploration. After injuring and losing use of both of his hands for over three years, he began beading when a friend recommended he try it as part of his hand rehabilitation therapy. Once he started, he was hooked.
In all of his pieces, Cliff integrates over 30 years of study in multiple fields, including graphic design, painting, sacred geometry, and chromotherapy, as well as apprenticeships with several medicine men and women.  He has exhibited his work internationally, including at the Toho Bead Galleries in Osaka and Tokyo Japan. Several publications have featured his jewelry, including Bead & Jewellery UK (Issue 112, 2021 front cover), Beadwork Magazine, Facet Jewelry, and Bead & Button, to name a few.
Cliff's beadwork has earned him several awards—he was the grand prize winner of Bead Dreams in 2018, where he was chosen for the People's Choice Award, and he also received the Facet Jewelry Reader's Choice Award in July 2019 and Judge's Award in November 2019. His work has also been featured in ad campaigns and in a blog article for The Museum of Beadwork in Portland, Maine and Toho Beads in partnership with Bobby Beads & Starman. Toho Beads has also invited him to be a featured artist for their 2019 and 2020 Toho Bead Challenges. He is also a permanent ambassador for the Beadworker's Guild and International Beading Week who featured him in their January 2022 Journal, as well as the international tutor for Melbourne, Australia for 2021.
Cliff teaches beadweaving at various stores, for bead societies, and for retreats internationally. Before becoming a full-time artist/teacher, Cliff had worked as an instructor for a college of natural medicine, as a chef, and had held a private holistic medicine practice. He is married with a 5 year-old daughter and lives in California, near San Francisco.
To view more of Cliff's designs: Click HERE
Let it Bead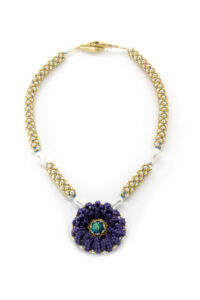 Description:
This project, designed especially for the Heart of Texas, is a reversible necklace that features a chrysanthemum flower with a Swarovski crystal focal on one side and the pristine body of a sea urchin on the other.  The neck rope was designed using a combination of 4 different shapes of Swarovski pearls – over 300 pearls in total.
Last year, I had to take a lot of time off due to issues with  my health and to help some of my loved ones who were also experiencing health issues.  I wanted to create a piece to represent strength, regeneration, healing, and growth.  During this time, I was reminded that sometimes we need to let go and listen to the messages of the universe. This led me to consider several different symbols/elements and combine them together to create this necklace.
In Japanese mythos, pearls were believed to be formed from the tears of a water fairy named Ningyo. One thing I have noticed is that throughout our lives, we cry as a way of expressing extreme emotions; tears of joy, tears of anger, tears of fear and tears of sadness. The different shapes of pearls in the rope symbolizes the range of emotions we experience with tears throughout our lives.
I imagine those tears watering the chrysanthemum that is the focal on one side of the pendant of this necklace. In several cultures, the chrysanthemum is a symbol of friendship, happiness, and well-being. Japanese people see the flower as an example of perfection. The flowers also represent growth and the blossoming of our spirit.
Sea urchins have a hard exterior and are often covered with spikes. The hard shell speaks of personal protection, while the soft center of the creature within reminds us to remain tender inside. When broken, the spines of the urching regenerate. In Native American medicine, they are considered a powerful message of our ability to regenerate and heal where we need to in our lives.
The 23kt-gold plated clasp features two interlocking hands, as a reminder that when we need support, it is imperative to turn to our loved ones for support and guidance (whether they are living or have crossed over to the other side).
The flower can be made with adjustable layers so it can be a non-reversible frilly Spider Mum or with an additional layer making it reversible with the urchin side and the anemone chrysanthemum on the other side.  The focal is a discontinued Swarovski sea urchin crystal.  Students can choose gold beads with white pearls or palladium beads with tahitian pearls (gold and silver can't be swapped). Students can pick which color crystal they would like as well as which flower color they would like.
Workshop : Designed for The Heart of Texas Summer 2023 Bead Retreat
Skill Level: Intermediate to Advanced
Techniques:  Herringbone, Netting, Albion, CRAW
Materials: Kit Mandatory
Kit: $125
Kit Color Options: Students will have their choice of center crystal between a few different crystals for which I am providing a labeled picture and which pearl set they want (white or Tahitian). White only comes with gold beads and Tahitian only with silver. Click HERE 
Students should bring: Lighting/Magnification, your usual beading supplies