Heart of Texas Bead Retreat
Summer Retreat
June 1-4, 2023
Hilton DFW Lakes     Grapevine, Texas
Bonus Workshops
Strawberry Fields
Thursday: June 1, 2023  ♥  1:00 – 4:00 p.m.
and
Happy Christmas Santa
Saturday June 3, 2023  ♥   6:00 – 9:00 p.m.
© 2023 by Lori Ahlin
Lori Ahlin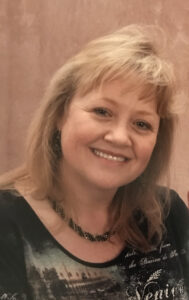 I was born and raised in Southern California, but have lived in Nevada since 1996. I was working in the assisted living industry when the economy crashed in 2010 and was grateful that my hobby turned into a job at the local bead shop, Bead Jungle.
Inspired by my Mom's lifelong creativity, I have always been involved in arts and crafts, with beadingbecoming my passion in 2004. I have loved being a designer and instructor in the Las Vegas area, having worked on various projects including the Bellagio Botanical Gardens display. Vegas is a tourist destination, so I have enjoyed the opportunity to teach students from all over the world, even to students that don't speak English.
I like to have fun, I have a twisted sense of humor, a boisterous laugh and I am excited to share my love of beading with others. I enjoy traveling almost as much as beading so you never know where you might find me taking or teaching a class.
Currently, I teach group and private classes in Bead Weaving, Bead Embroidery, Kumihimo and Leather Wraps and have been selling my patterns on Facebook by request. Check out my page: LABeadBox
Strawberry Fields Needle Case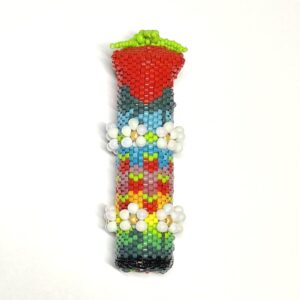 Description:
Strawberry Fields Needle Case was designed exclusively for the 2023 Heart of Texas Bead Retreat. It is made using predominately Miyuki Delica Duracoat beads so the beads won't change color over the years. The needle case design was driven by the song, with Strawberry fields and Strawberry blooms using the Tubular Peyote Stitch and other bead weaving techniques. A three dimension shaped strawberry as the cap, filled from top to bottom with rows of blooms and strawberries.Detailed step-by-step, illustrated instructions will be provided in class.
Workshop Length:  3 hours
Skill Level: All Levels
Techniques:   Tubular Peyote, Peyote Increases & Decreases, Circular Peyote,, various additional bead weaving techniques
Materials:  Miyuki Delica Beads, Seed Beads, and Drops
Class: $35
Kit:  Kits Available  $35      /or BYOB (Bring Your Own Beads) Materials List
Students should bring:  Lighting/Magnification, your usual beading supplies, Size 12 beading needles
Strawberry Fields
Thursday: June 1, 2023  ♥  1:00 – 4:00 p.m. ♥ Fall Creek Classroom
Happy Christmas Santa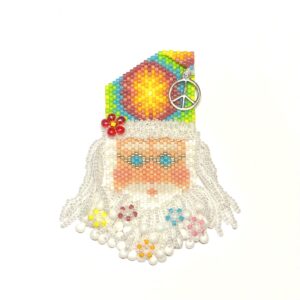 Description: 
Introducing Saturday Night Santas! Happy Christmas is a Limited Edition Santa Christmas ornament, designed exclusively for the 2023 Heart of Texas Bead Retreat. This year the Santa pays homage to the "peace, love, and flowers" of the 60's.
This flower child, with his tie-dye hat, tea shade glasses, long hair and his overall 60's style, spreads love wherever he goes. He is made using predominately Miyuki Duracoat beads so the beads won't change color year after year. You will create your Santa using Peyote Stitch, Brick Stitch, various bead weaving techniques. Detailed step-by-step, illustrated instructions will be provided in class.
Workshop Length:  3 hours
Skill Level: All Levels
Techniques:   Even Count Peyote, Peyote Decreases, Fringe techniques, Brick Stitch, various additional bead weaving techniques
Materials: Miyuki Delica Beads, Seed Beads, and Drops
Class: $35
Kit: Kits Available  $35      /or BYOB (Bring Your Own Beads) Materials List
Detail Photos click HERE
Students should bring: Lighting/Magnification, your usual beading supplies, Size 12 beading needles
Happy Christmas Santa
Saturday June 3, 2023  ♥  6:00 – 9:00 p.m. ♥ Fall Creek Classroom
♥