Heart of Texas Bead Retreat
Fall 2020 Retreat
September 10-13, 2020
Workshops
Nancy Cain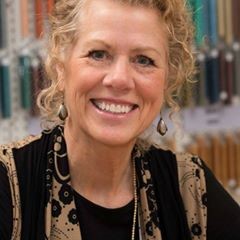 Nancy has been teaching bead classes for over 20 years and for the last 16 years on the international/national circuit teaching in Japan twice, Australia, Germany and England as well as on several bead cruises from Alaska to the Baltic Sea. She was the 2015 Bead & Button Show Master Class instructor – teaching Engineering Vessels. In her workshop sessions, she shares her passion for structural peyote stitch by delving into the process of designing and structure.
With an engineering perspective to beading, she shares the processes so students can enhance their knowledge beyond the specific project.
Nancy has exhibited at the Tokyo Metropolitan Museum of Art and the Hakone Open-Air Museum. She was named Beadwork's Designer of the Year for 2010 and twice been a Bead Dreams Finalist at the Bead&Button show. She has also been widely published and is in the process of writing a book.
Before her beading hobby grew, Nancy was as a graphic artist and calligrapher as well as a drafter for an engineering company. She is married with two grown children and lives in Colorado.
To view more of Nancy's designs, visit Nancy Cain
Contempo
Description:
Contempo definition – informal contemporary
When designing, I like to start with a general sense of the style I want to achieve. I wanted this design to fit with the modern looking Swarovski 30mm Chessboard circle flat back stone. Various styles of peyote stitch create Contempo. This versatile piece pairs well with a little black dress or a denim jacket. Jointed ropes add hinges while the sides of the stone show an open weave design.
Artist: Nancy Cain
Workshop: This is a one-day workshop designed for The Heart of Texas Bead Retreat September 2020
Skill Level: Intermediate
Techniques: Peyote Stitch
Materials: Japanese Seed beads, Swarovski crystal, sterling silver or gold vermeil clasp
Kit Color Options: Four colors to choose from – coming soon! Click HERE
Kit: $95
Students should bring: Lighting/Magnification, Fireline, your usual beading supplies
---
Sabine Lippert
After doing all kinds of crafting and needle work, Sabine started beading in 2007. Two years later she published her first beading book in Germany, and in 2012, the first book in the United States, "Sabine Lippert's Beaded Fantasies". She has been published in several magazines in Germany and the States. In 2011, she gave up her job as a physician and became a full-time bead artist. Since then, she is teaching classes in Germany, different European countries, and in the United States. Her work is not based on a particular technique, she is more design orientated, using Peyote, Brick, Right Angle Weave stitches and netting, whatever is required to create a certain shape or style.
To view more of Sabine's designs, visit Sabine Lippert
The Duchess of Dover
Description: This pendant is made from a 27mm Rivoli in the center and is embellished with delicate little arcs all around. It is double faced, so if you use a non-foiled Rivoli, you can let it twist. It can be reversible as well!
Artist: Sabine Lippert
Workshop: This is a one-day workshop for The Heart of Texas Bead Retreat September 2020
Skill Level: Intermediate to Advanced – Need to know CRAW and  RAW
Techniques: CRAW, Double RAW
Materials:  COMING SOON
Kit: $ COMING SOON
Kit Color Options: Details coming soon!
FOR MORE PHOTOS of The Duchess of Dover – Click HERE!
Students should bring: Lighting/Magnification, your usual beading supplies.
---
Kinga Nichols
One way or another Kinga has been always making things, which started turning into a career when she was painting murals at the time she lived in New York. The murals were fun, but  she did not feel like painting was her calling. Eventually she picked up a bead and Button magazine in 2007, found a bead embroidery project, and slowly but surely the obsession took over.
After that first project, she started creating her own designs and quickly found her own distinctive voice that allowed her to translate her imaginings into beadwork. Kinga is always brainstorming, and her imagination provides an endless supply of fanciful ideas that she translates into bead embroidery.
Her work first got noticed in the first Battle of the Beadsmith, quickly followed by her being a BeadDreams finalist in 2013 and getting 3rd place in the same competition in the Swarovski category in 2014, and a book feature in Marcia Decoster Presents, 2014. In 2015 she won first place in the crystal category in BeadDreams. She has done a number of instructional bead embroidery videos for Interweave publishing in 2016 and 2017, and has been featured in magazines in the US and Europe.
 In 2013 she started teaching and she hopes to continue this as her chosen profession for a long time to come, not only passing on beady knowledge, but perhaps her unique way of looking at the world as a magical place filled with endless possibilities.
To view more of Kinga's designs, visit Kinga Nichols
Ormolu Box Bracelet
Artist: Kinga Nichols
Workshop: This is a one-day workshop designed for the Fall 2020 Heart of Texas Bead Retreat.
Skill Level: Intermediate 
Techniques: Bead Embroidery, Peyote Stitch, Leather Stitching
Materials: Seed Beads, Focal, Clasp, Foundationn, Leather – all included in Kit.
Kit: $110
Kit Color Options: Gold & Silver with extra choices offered for the pearls and Swarovski crystals to customize your kit.
FOR MORE PHOTOS of Ormolu Box Bracelet – Click HERE! 
Students should bring: Lighting/Magnification, your usual beading supplies.
---