Welcome to
Heart of Texas Bead Retreat
Summer 2019
June 13 – 16, 2019      Hilton DFW Lakes      Grapevine, Texas
Special Edition Bead Embroidery Workshop
Kristallherz
 with Sue Charette-Hood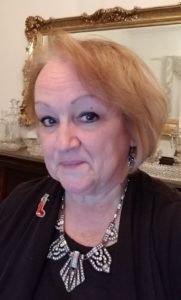 Sue Charette-Hood is an award winning Canadian jewelry artist living in Texas and South Carolina. She has been in love with creating jewelry and teaching since 2000. Kumihimo and off-loom bead stitching are her favorite media for designing. Sue is inspired by her students, especially the absolute beginners who ask the most mind-opening questions. She is married with two daughters and works as an ultrasound technologist.
Sue is a designer and instructor and has been published over 28 times in National and International bead magazines and digital media. She.teaches regularly at several bead stores and bead societies across the USA and Canada. She also teaches regularly at bead retreats in Texas and Louisiana and for the national show Beadfest since 2012 and internationally at the Creativ Festival in Toronto, Ontario, Canada. Sue was also a featured artist in a San Antonio city art event called "Art of the Bead" in March, 2013.  Sue is the Past President of the San Antonio Bead Society and a member of Dallas Bead Society, Austin Bead Society, Great Lakes Beading Guild, North Georgia Bead Society and the Etsy Bead Weavers Team.
Sue has been a Starman Trendsetter Designer for two terms 2014-2015 and 2015-2016 and has many of her design as patterns in the Starman "Tutorial of the Month Program". www.patterns.beadindex.com  Ritzy Too Magazine profiled Sue as their "Designer of the Year" for 2014. www.RitzyToo.com  
Sue sells her tutorials on Etsy:  www.crystalwonders.etsy.com
---
Kristallherz
In this two part class, students will learn how to make a beautiful Swarovski crystal embellished heart-shaped component using several bead embroidery techniques followed by how to incorporate the Kristallherz component into either a pendant, brooch, narrow collar, hairpiece or cuff (student's choice)….. because not everyone wants to make the same thing!
Description: Click HERE
Artist: Sue Charette-Hood
Skill Level: All Levels
Workshop Length: Part 1   3-Hour Class THURSDAY 2:00 -5:00 pm        Part 2    3-Hour Class FRIDAY 7:00 p.m.
Techniques: a variety of embroidery stitches: two bead back stitch, brick stitch, picot stitch, peyote stitch in the round, whip stitch, stop stitch, etc.
Materials: Coming Soon!
Class:
Part 1 $40     
Part 2 $40     
Part 1 & 2   $60
Kit:     
Part 1 $35     
Part 2  $25   
Students should bring: 6lb fireline, #12 needle, E6000 glue, sharp embroidery scissors, thread burner, flat nose pliers, measuring tape, mat, lamp and glasses if you need them.
Kit Colors: Assorted
To Register Click HERE