Welcome to
Heart of Texas Bead Retreat
Summer 2019
June 13 – 16, 2019      Hilton DFW Lakes      Grapevine, Texas
SOLD OUT!
~ REGISTER NOW TO BE ON WAIT LIST ~
Workshops
---
♥ Please Note:  It is recommended that you have a working knowledge of peyote (odd & even count, tubular, increasing and decreasing, etc.), right-angle weave, herringbone, netting, and cubic right-angle weave stitches before attending. While the teachers make every attempt to help students with every step of the projects, they cannot teach the basic stitches.
♥ Take a minute and read the techniques utilized in each project included on this page and any pre-requisite requirements requested by the instructor to be sure you have some experience with each technique.  Check out your local bead store, YouTube, and public libraries for stitching techniques and instruction.
---
Cynthia Rutledge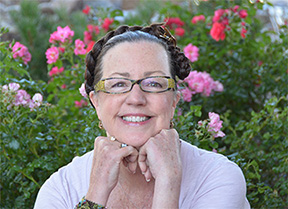 Cynthia is a contemporary artist and teacher focusing on beadwork as her medium. She specializes in peyote stitch and off-loom weaving techniques with an emphasis on developing sculptural unsupported shapes in beadwork.
Her work has been exhibited in national and international shows and has appeared in Nicolette Stessin's Beaded Amulet Purses, Carol Taylor's Creative Bead Jewelry, and Carol Wilcox Wells'Creative Bead Weaving: A Contemporary Guide to Classic Off-Loom Stitches.
"My attraction to 3-dimensional shapes has created a fascination for me throughout my life and has fueled my creative spirit. My choice of beadwork as a primary medium has followed that same fascination. As my beadwork has evolved, my work seems to always lean towards the building of shapes and forms that are functional and wearable.
The choice to use beads as my medium was primarily influenced by my love of color. Beads reflect and absorb light, hold shape and dimension, and in so doing, offer chameleon-like qualities. It is not always the end result that is the most important to me, however. The process of working with beads and thread is meditative and calming, which allows time for reflection. Engineering each piece is always a challenge that thrills me, as well as giving me the power to make the decisions that need to be made for each piece. The more I experience the wonderful qualities of beadwork, the more I realize my relationship with beads will always be one of learning, experiencing and sharing.
The decision to teach grew from my personal desire to share my love of beads and all the wonderful things that can be created with them. The commitment that I have to teaching stems from my desire to share the knowledge I have gained while developing my own skills in this medium. Ultimately, my mission is to help to keep this art form alive and well."    (photo of Cynthia by Mark Rutledge)
To view more of Cynthia's designs visit Cynthia Rutledge
Jewels of a Maharani
Description: Click HERE
Artist: Cynthia Rutledge
Workshop: This is a one-day workshop designed for The Heart of Texas Bead Retreat June 2019
Skill level: Intermediate to Advanced
Techniques: Tubular, even-count peyote stitch with shaping; Flat circular peyote stitch with increasing; Flat, odd-count, peyote stitch using step up/step-down techniques; Tubular filled netting; Embellishing techniques
Materials: Click HERE
Kit: $90.00 each plus the cost of one oval CZ
Kit Colors: Click HERE  There will be additional Kit Color Options
Students should bring: Click HERE for Cynthia's list.
---
Leslee Frumin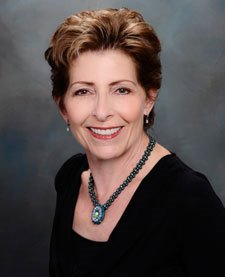 My roots as an artist run deep, back to my childhood. I loved to see my mother get dressed up–hair done, make-up on, fancy dress and shoes, jewelry, perfume and of course an evening bag to complement the look. I loved those evening bags–some with rhinestones, some made from metal, and others were plastic. The most elegant were beaded. From this, my passion for "fancy stuff" was born. This vision of my "mother dressing up" combined with the ability to work with my hands has enabled me to pursue my passion and recreate my childhood memories in my art. Today, this manifests itself in a body of work that displays simple, unique and elegant combinations of beads, metals and stones.
As an adult, two other influences helped me hone my vision–my teachers and my students. My teachers helped shape my focus, hone my skills and stimulate my art. My students taught me to "look through the eyes of others" which dramatically expanded my color horizon and palette. Without their help, I would never have dreamed such color combinations nor dared to use them.
Nothing excites me more than mixing colors and textures sprinkled with shiny, matte, translucent and opaque beads, metals and stones to add depth and impact. Whether using clean lines or embellishing the pieces to the "nines", my artistic goal remains to create "simple elegance".
My mother would approve!
To view more of Leslee's designs, visit Leslee Frumin
Crystal Carousel

Description:
Crystal Carousel Necklace features a round structure with 3 pear shaped stones creating the walls and a rivoli at the base. The neck chain is a long twisted Ndebele rope that does not require a clasp. The structure is embellished with 2mm round crystals—much like the lights on a carousel. The length of the pendant piece is just over an inch and the diameter is just under an inch. The necklace is light in weight, making it easy to wear. Color possibilities are endless!
Artist: Leslee Frumin
Workshop: This is a one-day workshop designed for The Heart of Texas Bead Retreat June 2019
Skill Level: Intermediate
Techniques: Peyote, Ndebele, Twisted Ndebele and Right Angle Weave
Materials: 3 Swarovski 14mm x 10mm pear-shaped stones, 1 – 14mmSwarovski Rivoli, Swarovski 2mm round crystals, Japanese seed beads (Aikos in two colors, 11° and 15° round seed beads in two colors)
Kit: $45
Kit Color Options: Click HERE 
Students should bring: Lighting/Magnification, Fireline, your usual beading supplies.
---
Miriam Shimon
I am a bead artist originally from Denmark, but living in Israel for the last many years. I've always been creative and involved with art but beads and jewelry took my fancy eight years ago and this is my main occupation today – mainly teaching the many wonderful ways to create colorful art with glass beads, soutache, crystals, silver and gold."
Miriam's work has been featured in numerous magazines around the world and her work has won several awards. Her number one love is creating unique one of a kind pieces, each individually crafted and with its own soul.
To view more of Miriam's designs, visit Miriam Shimon
Margarita
Description:
Sparkle like the queen you are with this show-stopping necklace. The strap boasts an almost delicate, lace like quality, and the individually stitched components take opulence to the next level. We'll be using a combination of bead weaving techniques to bezel and embellish the stunning Swarovski crystals, and each component can be used individually to make matching accessories.
Artist: Miriam Shimon
Workshop: This is a one-day workshop designed for The Heart of Texas Bead Retreat June 2019
Skill Level: Intermediate
Techniques: Peyote, Netting, Right Angle Weave
Materials:  Click HERE
Kit: $80
Kit Color Options: Click HERE
Students should bring: Lighting/Magnification, your usual beading supplies.
---
Melissa Grakowsky Shippee
Melissa Grakowsky Shippee is a published beadwork designer who teaches workshops internationally, contributes regularly to books and magazines, illustrates diagrams for other instructors, and has won awards for her bead artistry. She studied physics and art in college but turned her attention to beads when motherhood changed the direction of her life.
Her publications and contributions include a full-length instructional beading book called I Can Herringbone, articles in Beadwork Magazine, Bead & Button Magazine, Bead Star Magazine, Perlen Poesie, and contributions to Beading All Stars.
To view more of Melissa's designs, visit MGS Designs
Botanica Bangle
Description: Hybrid bead weaving and bead embroidery project. I will have at least 3 colorways with the potential to mix/match stone and accent bead colors with the three metallics (bronze, silver, gold).
Artist: Melissa Grakowsky Shippee
Workshop: This is a one-day workshop designed for The Heart of Texas Bead Retreat June 2019
Skill Level: Intermediate
Techniques:  3-sided prismatic right angle weave (3-PRAW), peyote stitch, bead embroidery
Materials: Size 15/0 and 11/0 seed beads, size 11/0 cylinder beads, Swarovski navette stones in 3 sizes, Navette stone settings, 1/2″ brass bracelet base, nonwoven beading base, Ultrasuede backing
Kit: $53 – 24k Gold Seed Beads     $30  – Nickel, Light Bronze, Bronze Seed Beads
Kit Color Options: Click HERE  
Students should bring: Lighting/Magnification, your usual beading supplies; chain-nose or flat-nose pliers (for setting stones)
♥ Optional:  Included is a design option for a clasp bracelet. You will need to provide the clasp; a low profile clasp or snap is recommended.  Clasp/snap is not included in kits.
---
Marcia DeCoster

Marcia has been creating jewelry out of little tiny seed beads since first becoming enamored in the early 1990's. Her teaching career began in 1998 alongside her corporate career until 2004 when the beads became her full time endeavor.
Marcia has taught worldwide, has published three books and six videos and loves to share what she has learned along the way.  While versed in many different bead weaving techniques, she often gravitates to Cubic Right Angle weave for many of her design offerings.
To view more of Marcia's designs visit Marcia DeCoster
Fontainebleau
Description: 
Fontainebleau has a wonderfully deco feel to it, using shaped Cubic Right Angle weave to create the stacked shapes with cascading chain.  2mm crystals are used throughout the design to increase it's sparkle factor.  A hidden magnet makes the rope seamless and the CRAW shape of the bail is echoed in the strap to add interest.  You will definitely get a CRAW workout with all of the shapes while learning how to place beads on interior and exterior edges to create the different elements.
Artist: Marcia DeCoster
Workshop:This is a one-day workshop designed for The Heart of Texas Bead Retreat June 2019
Skill Level: Intermediate ~ Pre-Requisite Must know how to start and join cubic right angle weave. ~
Techniques: Cubic Right Angle Weave (CRAW)
Materials: Click HERE
Kit: $75
Kit Color Options: Click HERE  
Students should bring: Lighting/Magnification, your usual beading supplies –
---
Heart's Summer Special Edition Add-On! 
Two-Part Bead Embroidery Workshop
Kristalherz 
with Sue Charette-Hood