~ Check back for updates! ~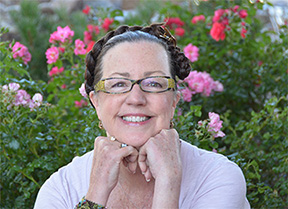 Cynthia Rutledge
Cynthia is a contemporary artist and teacher focusing on beadwork as her medium. She specializes in peyote stitch and off-loom weaving techniques with an emphasis on developing sculptural unsupported shapes in beadwork.
Her work has been exhibited in national and international shows and has appeared in Nicolette Stessin's Beaded Amulet Purses, Carol Taylor's Creative Bead Jewelry, and Carol Wilcox Wells'Creative Bead Weaving: A Contemporary Guide to Classic Off-Loom Stitches.
"My attraction to 3-dimensional shapes has created a fascination for me throughout my life and has fueled my creative spirit. My choice of beadwork as a primary medium has followed that same fascination. As my beadwork has evolved, my work seems to always lean towards the building of shapes and forms that are functional and wearable.
The choice to use beads as my medium was primarily influenced by my love of color. Beads reflect and absorb light, hold shape and dimension, and in so doing, offer chameleon-like qualities. It is not always the end result that is the most important to me, however. The process of working with beads and thread is meditative and calming, which allows time for reflection. Engineering each piece is always a challenge that thrills me, as well as giving me the power to make the decisions that need to be made for each piece. The more I experience the wonderful qualities of beadwork, the more I realize my relationship with beads will always be one of learning, experiencing and sharing.
The decision to teach grew from my personal desire to share my love of beads and all the wonderful things that can be created with them. The commitment that I have to teaching stems from my desire to share the knowledge I have gained while developing my own skills in this medium. Ultimately, my mission is to help to keep this art form alive and well."
(photo of Cynthia by Mark Rutledge)

Falling for You 
Three organic leaf shapes are joined at the beginning of the leaves to form the central componenet of this design.  Using fun techniques of color grading really makes this design shine.  A beautifully bezeled cushion cut CZ adds the elegance to this design and just the right touch. A variation of RAW used to create fabulous strap ending in two lovely buttons and a button connector.
Full Description: Click HERE
Artist: Cynthia Rutledge
Skill Level: Intermediate to Advanced
Workshop Length: 3-Hour Class
Techniques: Variation of RAW, Flat peyote stitch with increasing and decreasing, Flat circular peyote stitch with increasing, Blending color techniques
Materials: Click HERE
Kit: $85.00 each plus the cost of one 18mm cushion cut
Students should bring: 2 size 10, 11 or 12 beading needles, 1 size 13 beading needle for tight spots, Small sharp scissors, Thread burner, Beading surface of choice, Lighting and magnification.
Kit Color Palettes: Fall, Winter, Spring & Summer Click HERE   PLEASE NOTE: There will not be a pre-selection of kits for Cynthia Rutledge's 'Falling for You.'  
---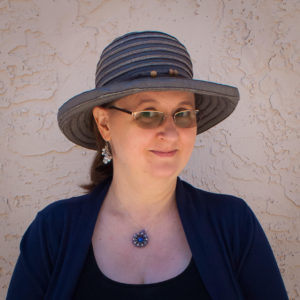 Cindy Holsclaw
Cindy Holsclaw has dabbled in crafts for longer than she can remember, but she's always been most fond of geometric structures. After many years of exploring these mathematical forms in modular origami, in 2006 she learned that these structures could also be made with beads. From then on, she was hooked! In 2009 Cindy started writing patterns for her own beading designs, and in 2012 she dove into designing and teaching beadwork full-time.
With a background in academia and a doctorate in biochemistry, Cindy takes an analytical approach to her design style; she likes exploring different bead shapes and variations on the established beading techniques, and she's constantly thinking of new ways to put beads together. Biochemistry and mathematics continue to inspire her and often show up in her finished work. As an educator, Cindy challenges her students to learn something new in every class, while giving them the tools they need through her very detailed beading patterns.
In 2015 Cindy was named Designer of the Year by Beadwork Magazine, and a series of her beading videos were published by Interweave in the same year. Cindy has taught at the Bead & Button, Bead Fest, and BABE! shows as well as at several bead stores and bead societies around the country. When not on the road, Cindy makes her home in San Diego, California with her musician husband and baby daughter.
Dream Meteor Pendant 
This sparkly pendant features two matching structures based on the geometry of the dodecahedron, all joined together with a matching bail and a focal teardrop pendant. Students will learn how to stitch a dodecahedron base that will serve as the foundation for both structures, and they will learn how to bezel a collection of Swarovski crystals onto each base. This class is appropriate for experienced students who already know cubic and prismatic right-angle weave, and students will need to bring Fireline thread (6 lb test) or One G in addition to their usual beading supplies.
Artist: Cindy Holsclaw
Skill Level: Intermediate to Advanced; should know cubic and prismatic right-angle weave
Workshop Length: 3-Hour Class
Techniques: Cubic Right Angle Weave
Materials: Click HERE
Kit: $65 Kits include all the materials needed to make the pendant, and an assortment of coordinating silk ribbons will be available for $9 each.
Students should bring: Lighting/Magnification, Fireline thread (6 lb test) or One G, your usual beading supplies
Kit Color Options: Click HERE
A note from Cindy: I recommend that you use a kit for your first colorway of a project, but if you'd like to bring your own beads I recommend Miyuki and/or Toho beads for the seed beads. Unfortunately, I can't guarantee success with substitutions. If you would like to consult with me about bead color combinations, I'd be happy to do that at the start of the class.
---
Maggie Meister
Maggie's love of ancient history, color and patterns has followed her throughout her life. She uses seed beads, gemstones, focal beads, and a variety of beadweaving stitches – Peyote, Right Angle Weave, St. Petersburg, to name just a few- to translate designs found in mosaics, frescoes, architecture and jewelry into sculptural bead art to wear.
Maggie has taught and continues to teach workshops nationally and internationally throughout Europe. Her work has been shown in London, Milan and Naples and has been featured in ORNAMENT MAGAZINE, Beadwork Magazine, Bead and Button, and a variety of books. She has written a book, CLASSICAL ELEGANCE, for Lark Books as part of their Master Beadweaving Series.
 Chicago 
When I think of Art Deco architecture, I think of the gorgeous city of Chicago – one of the most beautiful cities in the world! Years ago, I took their architectural cruise (highly recommended) and fell in love with the Art Deco buildings.
Art Deco began as a popular style of American architecture the 1920s and 1930s. The style originated as a visual art movement in France at the beginning of the 20th Century. It was seen at the 1925 Paris exposition of Modern Decorative and Industrial Arts and the 1933-1934 Century of Progress Exposition in Chicago. Art Deco architecture, sculpture, and decorative arts became extremely popular in the United States during this time. While Art Deco designs vary widely, buildings are often characterized by: vertical lines, building setbacks, terracotta, bright colors, and abstract geometric ornamentation.1
The pendant is made with components of Cubic Right Angle Weave and Peyote, and strung on an embellished chain of Silver Silk. Project will not be completed in workshop.
1 www.architecture.com, Chicago Architecture Foundation
Artist: Maggie Meister
Skill Level: Intermediate – Participants must know Cubic Right Angle Weave (CRAW), as basics will not be taught in class.
Workshop Length: 3 Hours
Techniques: Cubic Right Angle Weave (CRAW), Peyote
Materials: Click HERE
Kit: $45
Students should bring:  Lighting/Magnification, your usual beading supplies
Kit Color Options: Click HERE
---

Betty Stephan
Betty Stephan's beading classes are focused on learning but, at the same time, relaxed and a lot of fun! Her years of beading experience and the detailed, illustrated instructions provide the guidance needed to finish her beautiful class projects.
Betty has won numerous international awards for her bead embroidery and has been published in several books and publications. She also teaches nationally and exhibits at Fine Craft shows throughout the year.
When not teaching or designing jewelry in her western New York studio, Betty and her husband travel around the country in their RV – fully equipped to bead as she goes!
Texas Wildflowers Cuff
Using a combination of bead weaving and bead embroidery, students can choose from several different styles of flowers (there will be full directions)- or make up their own!  We will have fun arranging the flowers in various patterns so no two cuffs will look exactly the same. Betty will help with placement, as well as giving design tips.  Since the background of Ultrasuede is not entirely covered with beads, this cuff works up quite quickly but still has a big wow factor. Students will be able to alter the shape/width of the cuff, or event opt to make a hair clip or brooch instead.
Artist: Betty Stephan
Skill Level: All Levels
Workshop Length: 3-Hour Class
Techniques: Bead Embroidery
Materials: Click HERE
Kit: $70
Students should bring: Lighting/Magnification,  E6000 glue, glue stick (ie "Elmer's" or similar), Fireline 6 lb. or similar, sharp scissors, size 10 or 12 beading needles
Kit Color Options: Click HERE